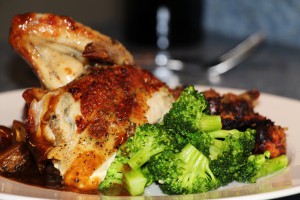 Why is grass fed better?  Recent research  has revealed some amazing benefits that may influence your view of grass fed meat.  But the real reason for choosing grass fed meat may be due to these simple questions.
Do you want food that is superb tasting?  Do you want food that is loaded with nutrition?  Do you want food that gives you vibrant health?  I commend you for asking these kinds of questions especially in light of all the health care information out there today.  There is a huge trend of folks looking to their food for the answer to great health.  There are so many buzz words today related to the health food trend such as organic, all natural, chemical free, pasture raised, free range, and the list can go on.  So where do we start?
Looking at meat
Lets just look at meat for now.  When you go to the store you find there are two categories of meat now.  All natural or organic and then the conventional raised meat.  When looking at the packages you will probably see little difference other than two to three times higher price on it.  The question to ask is it worth the higher price and is it the best quality that meat can be?  This is what I can tell you from my own experience.  I have tried both kinds and I must say the all natural does have some benefits and there is a higher quality there, but I never felt it was as good as it could be.  I wanted the best and searched for how to get that.
Grow the best
I found that the very best meat starts with how it is raised.  I found people like Joel Salatin at Poly face farm and others that have been focusing on raising top quality meat for many years.  I started following their models and to my amazement I have been getting outstanding quality meat from the flavor to the texture and the wonderful tenderness.  It is just amazing and to top it all off the nutritional value is abundant.
The secret to amazing food
What is mind bowing is the way to top notch food is following Gods design in everything.  The Bible clearly states in more than one way that if you follow Gods plan and look to Him for wisdom and knowledge He will give us great understanding.  So why wouldn't it be any different with food.  God made this world and everything in it so why not follow the manufacturers instructions?
What is naturally raised meat?
When I talk to farmers they usually say that there animals live and grow as natural as they can.  However what I see  usually doesn't describe natural all that well.  I don't want to bash farmers though since they are doing what their industry standards require of them and they are simple following a broken model.  I decided to take a look at what the animal is designed to do and that has given me a better idea of what naturally raised means. Each and every animal was designed to perform in a certain way.  Cows don't swim and pigs don't fly.  That sounds pretty obvious but that is exactly what we do when we force an animal to live in a way that it wasn't designed for.  It may live and eat in a way that isn't natural to them.  When we let the animal do what the Creator designed it to do everything works well.  It lives healthier and produces a superior product.  I will go into more detail about this on the beef and chicken pages of this website since beef and chicken is what I have been focusing on lately.
Some food for thought,  are you doing what your Creator designed you to do?  Are you a duck trying to run when you were meant to fly?
Know where your food comes from
My purpose with this website is to show you where to find the facts about how food should be and how we can offer you the highest quality food that we raise right here at our home.  You can visit our store to find out how you can get the very best meat.
If you have an interest in quality pasture raised meat will you please leave a question or comment below.  I would enjoy hearing your thoughts about this subject.
Thank you and God bless!