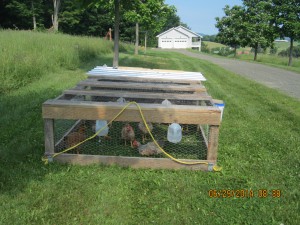 As we have learned to raise our own meat chickens over the past few years we have learned a few key rules to follow to get really great quality chicken meat.
When I first started to learn about raising meat chickens I was astounded to discover that chickens eat grass and other plants.  I thought they just ate grain.  In fact chickens have a very diverse diet and when they get access to this diversity you get happy healthy chickens and then the best meat.
We raise our birds in portable pens that are moved every day so they have access to fresh grass and bugs.  This also gives them a very clean environment at all times which means very sanitary and low odor.  We give them a good quality grain ration that has all the nutrients they need and we aim to give them grain that is not genetically modified (GMO).
After we have raised our own meat birds, the store bought chicken seems awful.  Conventional chicken now tastes bland and we are always wondering what is really in that meat.
Fortunately more and more people are demanding quality natural chicken meat and so there are more people raising meat chickens on pasture.
How can we help?
We raise our own terrific meat chickens and would be interested in raising birds for others.  We raise our meat chickens from May to October and you can check out our store for more details.  Even if you don't live near us and are looking for a good company to ship you quality chicken meat you can see a few of our hand picked company's that do an excellent job of raising all natural chicken meat as well as other kinds of meat at our where to buy grass fed meat page.
I welcome any questions or comments below.
Thanks and God Bless!