If there was an ingredient list for grass fed meat what would it say?  As people ask what is in grass fed meat I wonder what I would put on an ingredient list.   This would all depend on what the animal ate.  Our beef cows simply eat fresh green grass as we move them daily to new pasture.  We give them clean water and an all natural mineral supplement if they need anything more.  So the ingredient list for our beef may read:  Grass, water, sunshine, fresh air and all natural minerals.  This is simply the best "ingredient list" for beef that we have found.
Taste and Texture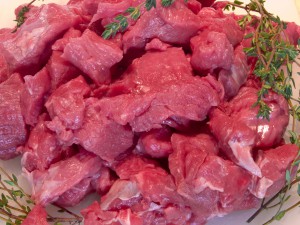 If we follow the proper protocol for raising beef there is more to it than what would be on an ingredient label.  I was never thrilled about eating steak and beef roast as it didn't taste all that great unless you doctored it up with seasonings and sauces and tenderized it.  However when I discovered totally grass fed beef I was amazed at the difference.  I would never go back to conventional grain fed beef again.  We don't do anything special as far as seasonings and the only treatment for tenderizing the meat is giving it adequate hanging time during the butchering process yet it is the best tasting and most tender beef we have ever had.
Nutrition
Not only does our meat taste good it has many beneficial nutrients in it.  Two of the biggest ones are a balanced omega 3 to 6 ratio and higher levels of Conjugated linoleic acid (CLA).  Grain fattened cattle are higher in omega 6 but low in omega 3 where grass fed has more omega 3 which is what your body needs.  The CLA in grass fed beef has been found to be important in fighting ailments like cancer and heart disease.  The overall mineral content has been found to be higher in grass fed meat such as calcium, magnesium, and potassium.  When looking at the research I have found that when I compare grass fed beef to grain fed in side by side comparison there is a significant difference in the overall nutrient content.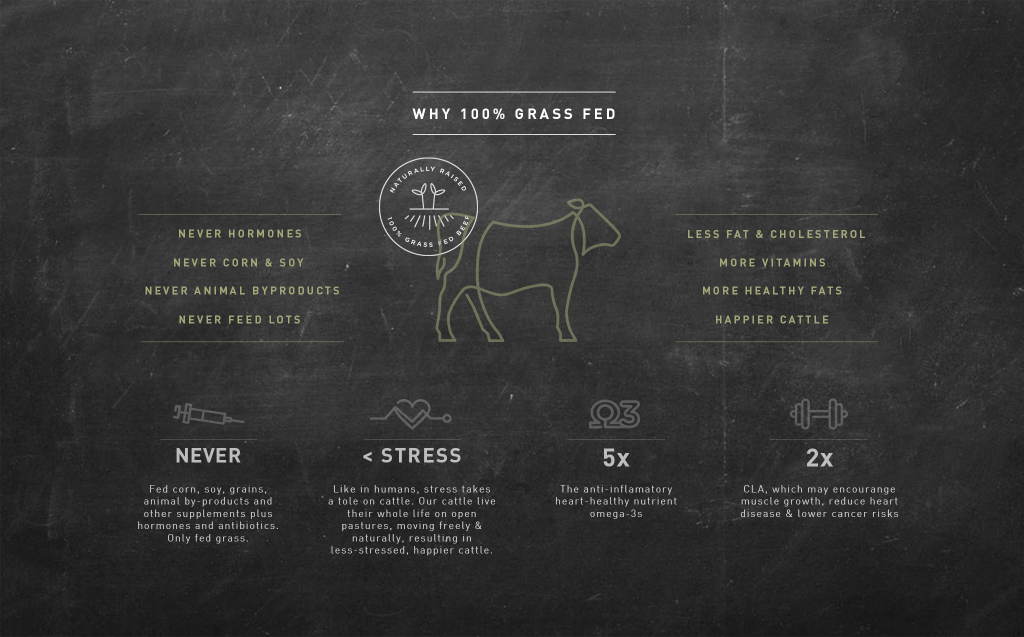 Not all grass fed beef is the same.
If we are going to look at what is in grass fed beef it is important to understand that there are different methods of raising what is labeled as "grass fed beef" and the different methods produce different characteristics in the meat.  I will give you the basic methods that are used.
Grass fed and grain finished.   The cattle live most of their lives on grass however the last 100 days or so they are fed grains to fatten them up and this reduces the grass fed benefits of the meat.  Even certified organic meat can be done this way as long as the grain is organic.  Unfortunately this is the most common method currently used for grass fed beef in the commercial farming practice.
Grass fed without pasture.  Believe it or not a lot of so called grass fed beef is grown with minimal exposure to pasture and the pasture they do get has very little grass growing on it.  If there are too many animals the pasture gets eaten down to nothing and the cattle are fed dry hay to supplement for the poor pasture conditions.  This method also lowers the nutrient value of the meat since they don't get enough fresh nutrient rich grass.
Grass fed with grain and/or grain byproducts.  Because many beef producers focus on quantity rather than quality they feed cheap feed additives to the cows.  These byproducts are typically grain that has been processed and what is left is fed to beef cows.  Often the byproduct has had the starch removed.  This too diminishes the quality of the meat.
Totally grass fed and finished.  This is the method of giving a cow the one thing they were designed to thrive on and that is grass.   I have said often that a cow is a four stomach herbivore that is designed to reap as much nutrition from grass as possible.  Keep in mind that in many climates such as ours in Northern Pennsylvania there are times when cows will need to be supplemented with hay since there isn't green lush grass year round like in winter or severe drought.  The best farmers raising grass fed beef keep their animals on high quality grass as much as possible by managing the pastures so that the grass has time to grow before being grazed.
Get to know your farmer.
We are seeing more and more meat in grocery stores labeled as grass fed and organic however it is really hard to know what is in grass fed beef that is in the stores.  Much of it is imported from other countries since the US beef supply is dominantly grain fed.  The number of farmers implementing 100% grass fed beef is growing and hopefully you will be able to find one near you.  If you can't find a reputable local source there are a few online suppliers that will ship to you but be careful as to how good their standards are.  I have found a few that I believe to have the quality I demand and you can see more about them at our where to find grass fed meat page.  You can also see what we offer in our local area at our store.
Thanks for stopping by and if you have any questions or comments about grass fed beef please leave them below and I will get back to you.
God bless!